By Ashley Choudry
Summer is upon us! And what comes with summer? Sports! While it may be the end of regular seasons of sports, this Summer will be host to two of the biggest events in the Sporting calendar, Euro 2020 and the 2020 Tokyo Olympics (both of which were held back a year). So, why not get in the mood for viewing these events by watching some great sport-related films.
Where better to start than one of the most popular sports films of the last two decades, Bend It Like Beckham (2002).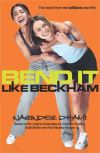 A story of a teenage girl with a massive obsession with Manchester United football club and one particular star player, this flick is sure to grab your notice and ignite a new passion for football inside of you. Behind the sport however is a story of a young woman's fight to rule over her own life and not be judged by her family's religion, traditions and gender stereotypes; something I'm sure many of you can relate to. A blend of comedy, sport and romance, this is definitely a must-see for all. While we may not always have a DVD of this in our film collection, it is alternatively available to watch anytime on Estream, in addition we also have a copy of the book within our Reading collection. Enjoy a snippet of the excitement by clicking the link below:
An even more apt film however, is the quintessential Olympics centred film, Chariots of Fire (1981).
A definitive classic of the genre, it focuses on two British athletes as they prepare for and participate in the 1924 Olympics, though competing for very different reasons. Winner of Four Oscars; including one for its ever-iconic theme tune; this is no ordinary sporting tale, but a true story with an inspiring backdrop of fighting prejudice and embracing religion. The inspiring ending is sure to get you excited for the run up to the delayed Tokyo 2020. However, though The Olympics may still be at the heart of this film, there is so much more too it. Find out for yourselves by viewing the trailer within the link below, you can watch this epic now on DVD or on Estream:
Now I want to draw your attention to a lesser known film, but one with more heart than most sports related films you will ever see, Here Comes the Boom (2012).
Starring the incredibly funny Kevin James as a high school teacher desperately trying to save his schools music program by raising money as an MMA fighter, it's more heart-warming and inspiring than overtly hilarious like his usual repertoire (Hitch, Paul Blart: Mall Cop) but worth a watch nonetheless. Perfect for teachers looking to inspire their students and perfect for those with families (It even featured in a Top 10 List by moviegoers in 2013 of best family films), this film is bound to light up your summer. Also available on both DVD and Estream, find out more with this trailer:
If anything, involving physical contact is your preferred type of sport, you may also enjoy watching The Wrestler (2008) directed by the acclaimed Darren Aronofsky (Black Swan) and starring Mickey Rourke (nominated for Best Actor at the Oscars).
While the debate over whether wrestling can be classified as full-fledged sport or seen as mere entertainment rages on, there is no doubting this films excellence. A solemn and tragic tale of an ageing man's attempts to return to the limelight in the wrestling ring and regain his younger fame, this film represents many a sportsperson's struggles throughout life once they retire. It perfectly symbolises the danger of sacrificing everything for the thing you love to do most, even when you can physical do it no more. The short clip below may not show any action from the film but demonstrates the main core of the story seamlessly. Watch the whole film now on Estream:
Lastly, we have my personal favourite of this collection, the first two entries in Disney's Ice-Hockey based The Mighty Ducks Trilogy (1992-1996). The Mighty Ducks (1992) & D2: The Mighty Ducks (1994), can currently both be found on Estream and will cool you and your family down nicely during the recurring heatwaves while bringing boundless amounts of fun to the start of your summer. The first film focuses on a young lawyer, washed out by Ice Hockey as a young teen, he finds himself reluctantly thrust back into its world following a series of misguided events. What ensues is an amusing narrative that conveys a message of moving on from the regrets of your past and using those memories to inspire others in a different way.
While Emilio Estevez's Coach Gordon Bombay maybe the main character, it is The Ducks themselves that truly endear you to this franchise. Wayward but comical, this odd bunch of kids are quite simply too lovable for you not to want to follow them through their journey (throughout both or all 3 films). Whether you are looking for something to reignite your memories of your 90's childhood (albeit the US version) or share the iconic era with your children, this set of films will become a firm family favourite in no time! These fun-loving films are also some of the only films to have had a genuine impact on real-life sport, inspiring the creation of an actual NHL Ice-Hockey Team, The Anaheim Mighty Ducks! See how the Mighty Ducks originally got their peculiar name in the first film in the clip below:
Whatever your sport(s) of choice maybe, why not give all of these films a try to get you in feeling active as we near the end of the academic year? Whether it be inspiring adaptations of true stories, heartfelt comedies or powerful dramas, we have it all right here in The Library or online with Estream.